TicTie Calculate version 5.0 and higher only.
Your online account for TicTie Calculate is used to manage your TicTie Calculate account settings and licenses, as well as to create bookmark templates. You can log in to the portal by clicking here. You will also be directed to your online account if you select Manage Account from the TicTie Calculate menu in Adobe®.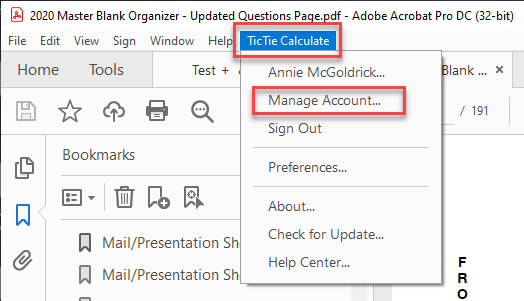 After login in, you will see 4 sections in the left-hand navigation panel; Account, Users, My Profile, and Support. 
Account
This section allows account managers to update your account information, adjust account settings and add/edit bookmark templates. 
Account Information
This section contains your company information and license ID.
Click the Change button to update this information.
Account Settings
This section contains settings that managers on the account can apply for all users.
Check the Only Managers can edit Bookmark Templates checkbox to enable this setting. 
Check the Enforce Page Sign-Off order checkbox to enable this setting (Prepared, Reviewed 1, then Reviewed 2).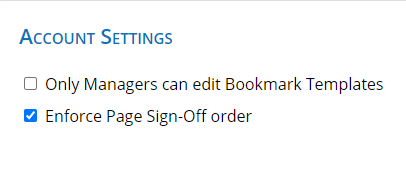 Bookmark Templates
This section allows you to create and edit bookmark templates. Click the link below for a full guide to creating bookmark templates:
Building your own Bookmarking Template

Users
This section allows you to add, import, modify and delete users. Your total number of licenses and licenses in use are listed here as well. The example below shows the company has 5 licenses total, and 2 are in use, leaving 3 available for use. 
Add User
Click the Add User button.
Fill out the personal information for that user. 
Click Save.
This will send an activation email to the new user.
You must have licenses available to create new users. 
Import From File 
This button allows you to add users in batches. 
Click to upload or drag/drop a completed CSV file.
Click Import to upload the completed CSV file. CSV Requirements: 

No column headers should be used.
Each line item requires an email address, name, and rights (User or Manager).
See the attached sample at the bottom of this article. 
Modify 
This button allows you to modify user and manager details.
Click the Modify button.
Perform any necessary edits.
Click Save. 

Delete
Click the Delete button. 
Check the Confirm Delete box. 
Click OK.
The user will no longer have access to the TicTie Calculate plugin or their online account. 
This will also free a license for use.
My Profile
This section allows you to view your information and change your password.
Your Information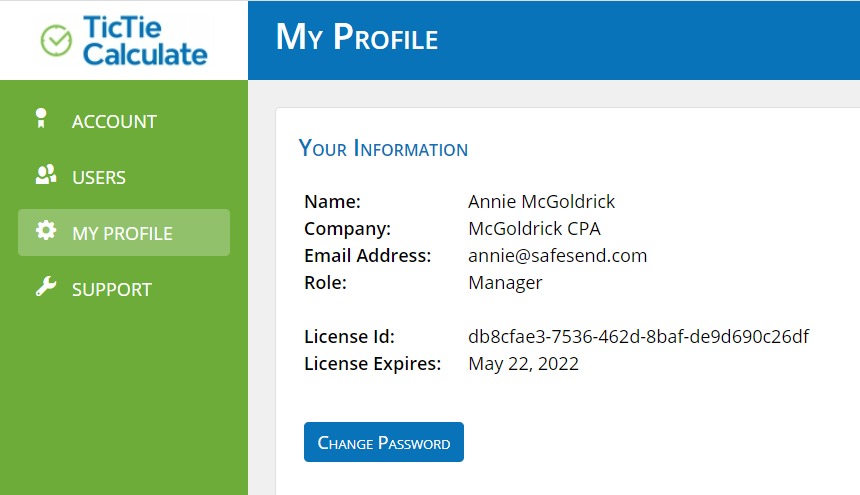 Change Password 
Click Change Password.
Enter your old password.
Enter your new password and confirm it.
Click Submit.
If you are unable to log in to change your password, you can reset your password by clicking the Forgot Password? button. For instructions on how to complete this process, see our Change or Reset Password article. 
Support
This section provides you with the TicTie Calculate download link and a link to our help center.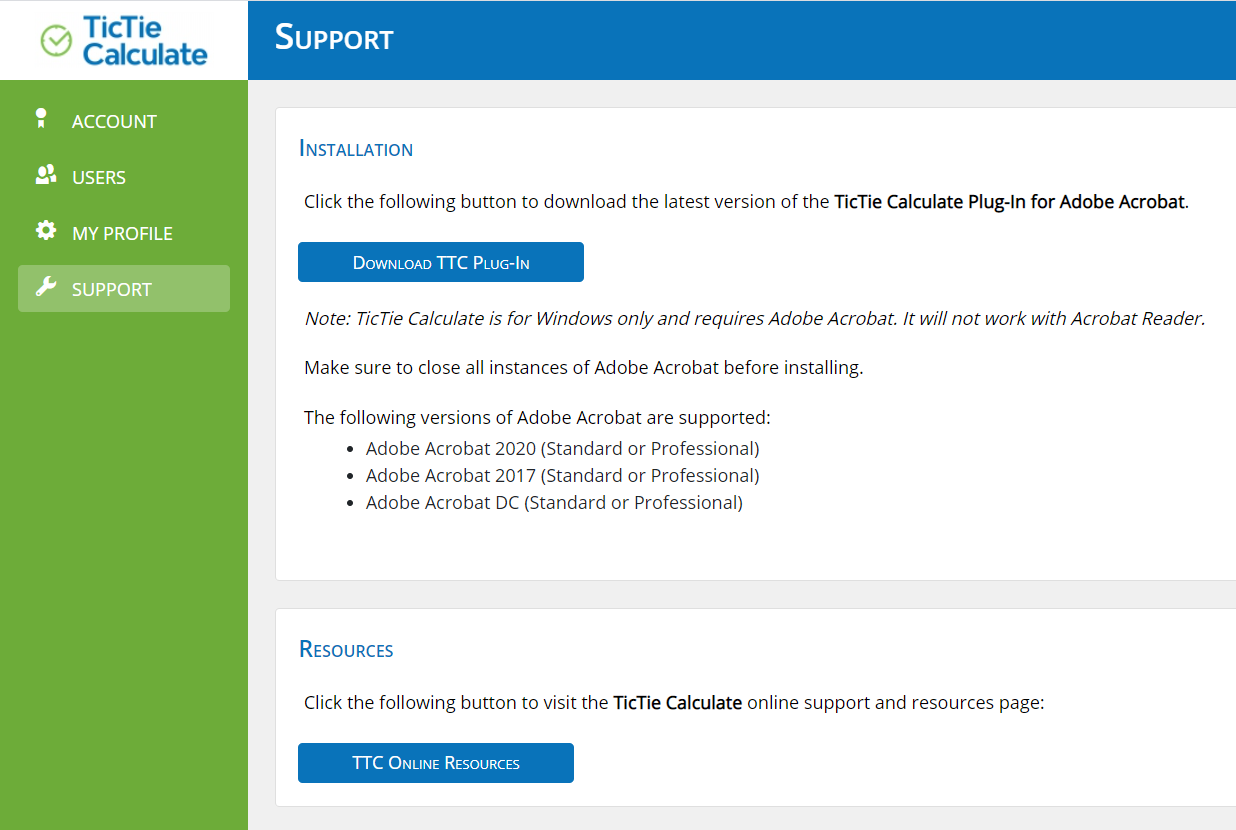 Installation
Click the Download TicTie Calculate Plug-In button.
Run the Windows Installer Package that was downloaded.
Resources 
Click TTC Online Resources button. 
This will open a new window to our help center, where you can search for instructional articles and videos.