This article will walk you through installing and activating TicTie Calculate for both purchased and trial versions.
Important
TicTie Calculate is only compatible with Windows 32-bit versions of Adobe

®

Acrobat

®

. If you are unsure of the version you are using, please see How to check if your version of Adobe

®

Acrobat

®

is 32-bit.
TicTie Calculate is not available for macOS

®

at this time.
Standard and Professional versions of Adobe

®

Acrobat

®

2017 or higher (including DC) are supported.
Acrobat

®

Reader is not supported.
For more information, please see System Requirements.
TicTie Calculate is currently not available to install on a terminal server.
Activate Your TicTie Calculate Account
Check your email for a TicTie Calculate Activation message from noreply@safesend.com.
Click the Activate TicTie Calculate link to go to the login screen.
Follow the instructions to create a password.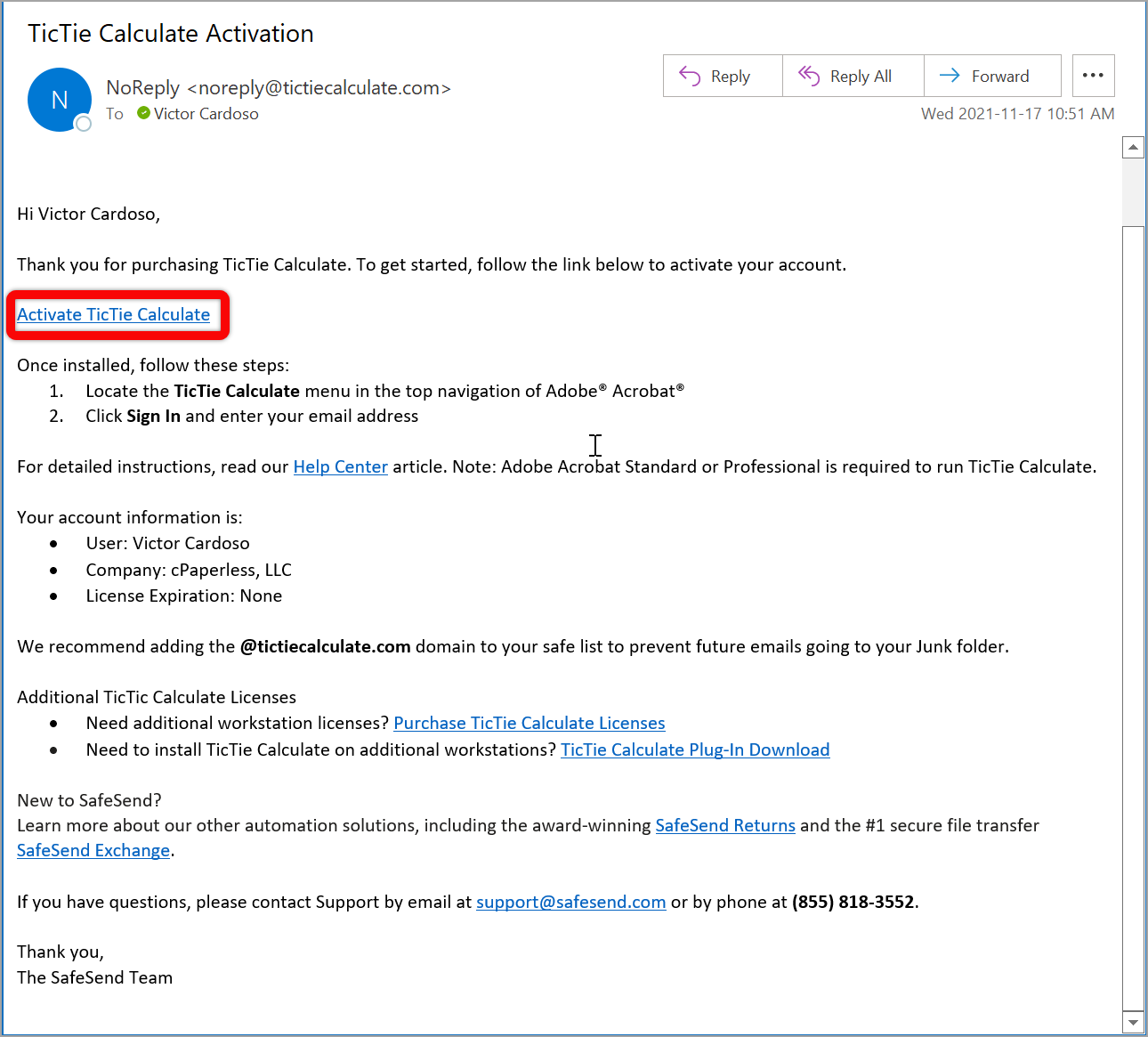 Install the TicTie Calculate plug-in
Important
Before you begin, be sure to close the Adobe® Acrobat® software.
Log in to your TicTie Calculate online account.
Click Support in the left panel.
Click Download TTC Plug-In.


Launch the downloaded TicTie Calculate installer.
Follow the steps in the setup wizard.
Open Adobe

®

Acrobat

®

.
You will see a TicTie Calculate menu at the top of the screen.


Enable TicTie Calculate in Adobe

®

Acrobat

®
In Adobe Acrobat, go to TicTie Calculate > Sign In...


Click the radio button to indicate whether you previously purchased TicTie Calculate or are using a Trial version and click Continue.


Enter your email address and password and click OK.


Click the TicTie Calculate menu and it will show you as logged in.


Add a shortcut
In Adobe Acrobat

®

, Click the Tools tab.
At the bottom of the screen under Add-ons, go to TicTie Calculate and click the Add drop-down menu.
Click Add Shortcut.
TicTie Calculate will appear in the right sidebar. Open a PDF file to begin using it.