TicTie Calculate version 5.0 and higher only.
We have new update for TicTie Calculate. It has been about 10 years since it has last been updated and we are happy to show you what is new. Below is a sampling of the new features and support you should expect in TicTie Calculate going forward.
New Self Service Web Portal for your Firm
We know of the difficulties managing licenses for you and your firm and with the new update to TicTie Calculate we have gone away with that completely. Now, when installing the new version you will create a username and password. This will give you access to TTC from any machine with the plugin installed. No more specific license to a specific machine!
In addition your login credentials will give you access the web portal for your firm. Let's take a quick tour.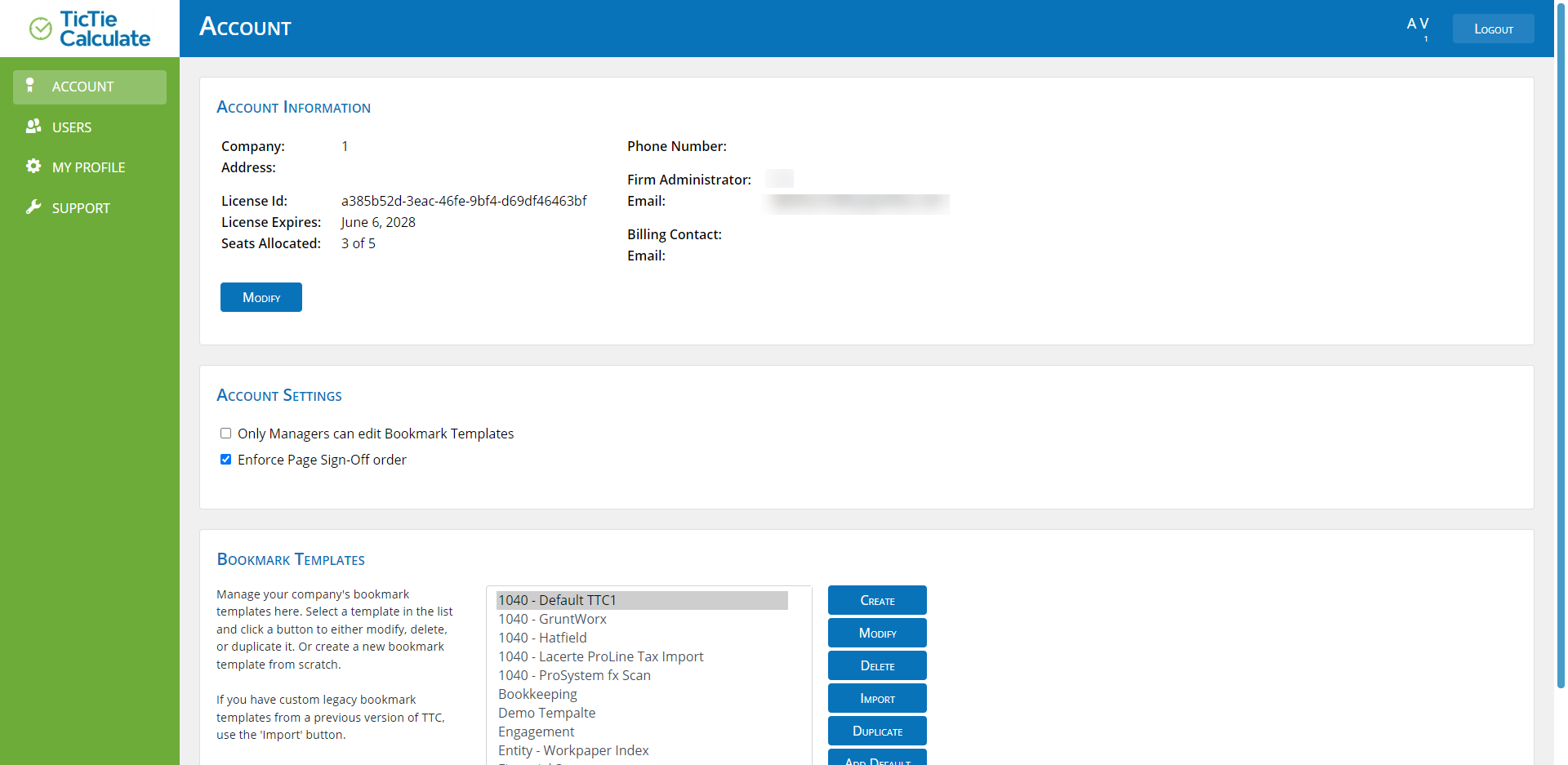 When first logging in, you will see you account page. This will give you high level information on your firm. As well as how many available seat (licenses) your firm has. Here you can also edit bookmark templates directly. Any changes to the bookmark template will be available to every user in your firm! No need to give them template files any longer.

Here in the user page is where you can see all the registered members of your firm. These users all have access to TTC via their very own login. Even better, you can add and remove existing users at a whim by simply clicking the Add User or Delete User buttons. No more need to contact SafeSend to free up licenses, this can all be done yourself!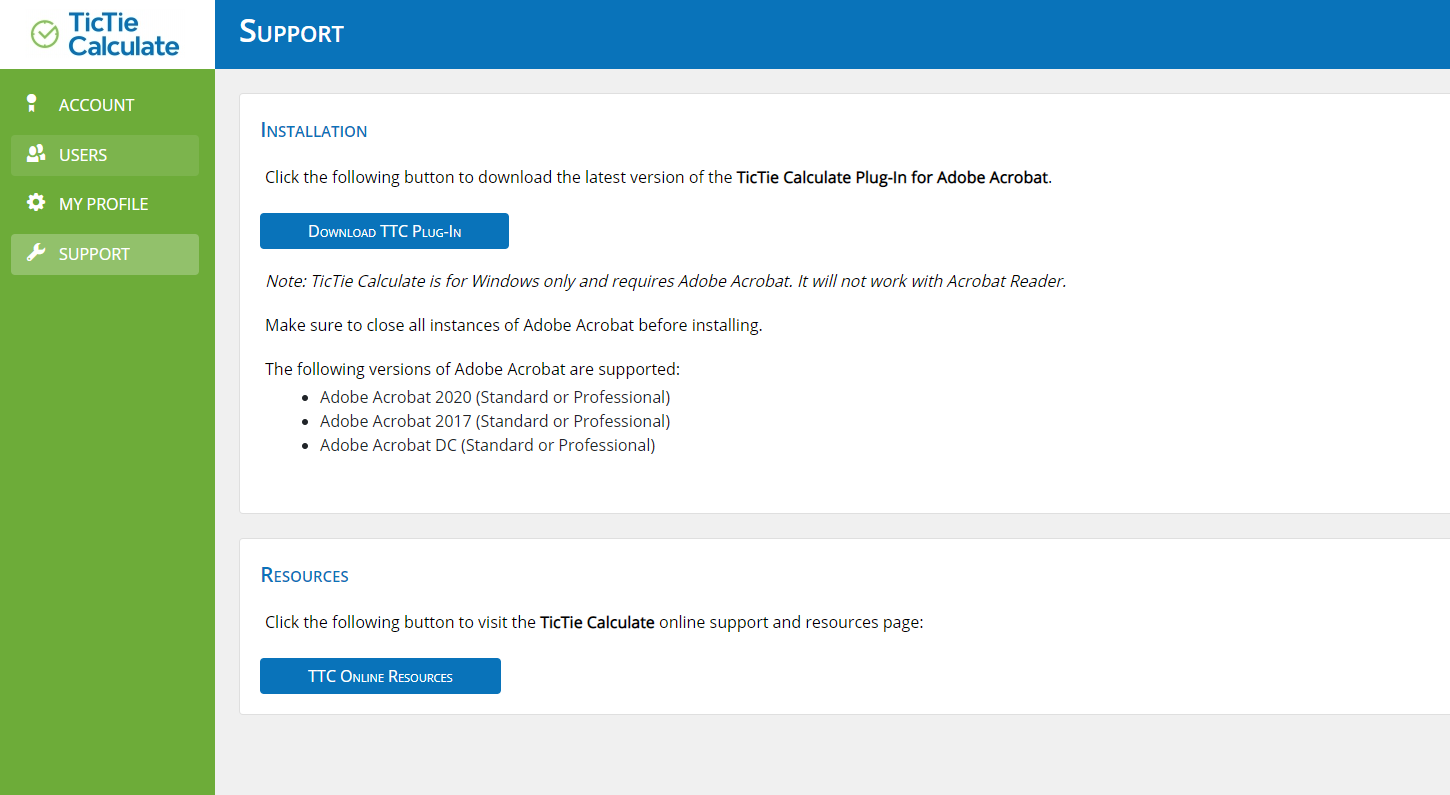 Finally, on the support page, all users will have access to download the latest plugin for TTC as well as an easy link to the online help center with tons of useful and helpful articles to make you more efficient at using the product.
Updates to the Plugin
Rest assured, there is no dramatic change to TicTie Calculate. The classic plugin you know and love will look and feel the same. However, we included many quality of life improvements.
The new tick marks come in a handy movable window that overlays nicely with your work and won't get in your way. Furthermore, we have added over 70 colors for all tick marks!
The review sign off feature has a fresh coat of paint. Easily track who has prepared and reviewed. Because of the new login features, it will automatically track the user who has signed off the pages to keep things nice and organized.
We have a new and improved Review Sign Offs feature. Now all parts of the sign off are tracked by log in credentials. You can filter by which pages were or were not signed off and filter by date of last sign off. We also track when Adobe® notes were added to a specific page and check if those notes have been reviewed or not since the last sign on.
The calculator also got some much needed improvements. We automatically post the log in credentials and date/time to the calculator tape for visibility. Custom naming of the tape as well as the ability to move it around. Best of all, by right-clicking the calculator tape you can take the tape and put it back in the calculator to make corrections! No need to start over. Feel free to change the color of the calculator tape as well too.
Renewals
We know that in the past it can be difficult to renew your product. We have enhanced our website to allow you to renew your TTC firm license. When you get your renewal email you will get a link to our website safesend.com. Your cart will automatically be populated with the number of users you have at the renewal price. There you can put in your credit card information and renew your license for another year all by yourself. We hope this will make managing your subscription just that much easier.
Closing Thoughts
This is just a sneak peek at what is new in TTC. There are a lot of fun new features I have yet to mention. If you are interested in the new version you can get a trial or purchase it for the first time on our website. If you are already a user, contact updates@safesend.com and our team will work on getting you to the new version.